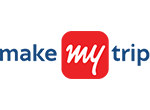 MakeMyTrip is India's largest and most popular Online Travel Agent. MakeMyTrip offers exciting and affordable deals on Domestic & International Hotel bookings, Air Ticketing, Holiday Packages, Train & Bus Tickets, Corporate Events, Visa services. MakeMyTrip has tieups with leading airlines like Jet Airways, Indigo, Go Air, Singapore Air, British Airways, Emirates and many more.
MakeMyTrip Offers - Book Flights, Hotels, Bus, Cabs, Trains, And More
When it comes to flight bookings and travel plans, the majority of Indians rely on MakeMyTrips for all information that they need. Founded in 2000, MakeMyTrip is India's well-known online travel industry, where Indian travellers come across instant booking options and comprehensive choices. Deep Kalra, the founder, created this online travel platform, initially for travellers coming from The US to India, for uncomplicated travel and booking opportunities. In 2005, MakeMyTrip launched its Indian operations - allowing Indians to transact online with IRCTC and book travel with merely a few clicks. Today, MakeMyTrip - MMT for short - has become a staple travel booking platform for both domestic and international flights in India. Besides flight and train bookings, this online travel booking portal provides hotel bookings and numerous travel packages to travellers. Apart from these, MMT introduces cheap tickets, budget-friendly MakeMyTrip offers and deals, and affordable holiday packages.
Book International Flight Ticket Using MakeMyTrip Deals
Flying international means lots of expenses. Not everyone can afford to spend such a high amount on the go. After one or two international vacations, many even restrain from making more trips to out-of-the-nation to save the cost. When you don't want to compromise on your international travels, use exciting MakeMyTrip offers to book flight tickets. Travel to your dream destinations - to any part of the world - without wondering about your pockets again. MMT makes sure each traveller gets access to numerous MakeMyTrip coupons and discounts for international airlines - including British Airways, Delta Airlines, Air France, Qatar Airways, Gulf Air, KLM, Malaysia Airlines, Singapore Airlines, Thai Airways, Air Arabia, and Lufthansa.
Book Domestic Flight Ticket Using MakeMyTrip Discounts
Whether you are a frequent traveller or occasionally travel to different parts of the country, booking flight tickets could go out of the budget. When you want to reach your destination within a few hours, but do not want to spend much on air tickets, turn your gaze to MakeMyTrip. At MMT, you come across some great offers that make your flying under the budget. Besides lowest airfares and exclusive MakeMyTrip deals, you get a portal that books tickets within a few minutes, without much hassle. Also, MMT introduces you to features like Fare Calendar, Instant Discounts, MyWallet, MyReward Program, and more. The user-friendly interface, premium customer service, and dedicated helpline number - all of these together make your travel booking experience convenient and affordable - at the same time. Book your travel plans with MakeMyTrip at lowest airfares, and do remember to avail exclusive MMT offers and discounts.
Book Hotels Using Exciting MakeMyTrip Offers
Although MakeMyTrip is well-known for travel bookings, the portal also allows customers to surf and book hotels online. It is known that hotel bookings, and especially at exotic locations, can be harsh on the traveller's pocket. When you don't want the hotel price to spoil your trip budget, come straight to MMT. MakeMyTrip makes your hotel booking task super easy. Go to the MMT website, enter your destination, check-in & check-out dates, number of people, and wait for this online travel booking portal to display an endless list of affordable hotels within seconds. Even you can filter your research as per your budget. Besides, you can use alluring MakeMyTrip hotel deals and MMT coupons to make your hotel booking much affordable. Using such cost-effective MMT offers, you can also book premium hotels at a not-so-expensive price. So, before you proceed to book a hotel via a local booking agent or any other portal, make sure to approach MMT for the latest MakeMyTrip hotel offers on both domestic and international destinations.
Send Your Loved Ones A Memorable Gift With MakeMyTrip Gift Card
If you believe MakeMyTrip is only about travel booking and MMT discount deals, we are about to change your mind. When it comes to making travellers happy, this travel booking portal leaves no stone unturned. MakeMyTrip has a gift card facility for wanderers who love exploring new towns, cities, and countries. If you know someone who prefers to spend mornings at beaches, evenings at meadows, and nights in the mountains, you can send them MakeMyTrip gift cards on their special days and occasions. MMT instantly delivers the e-gift cards to the receiver's account - whether it is a personal or corporate gift. All you need to do is pick a card or cards as per the occasion, select from the many denominations set by MMT, enter the recipient's name and details - Voila! MakeMyTrip e-gift cards will be directly delivered to their inbox. You can also write them a short personal message to add a personal touch to this memorable gift. If by any chance, you have received an MMT e-gift card and want to use it, you can do it easily within a few clicks. After you are done with bookings, select 'pay by gift card' options at the payment page.
MakeMyTrip Refer And Earn Program
Do you want to earn free money on MakeMyTrip? If you nod to the questions, the MMT refer and earn program is the perfect opportunity for you. Invite your family and friends to download the MakeMyTrip app on their smartphones or devices. Both of you will benefit from this get MakeMyTrip offer. When you share the MMT app link to others, they receive a unique code. They have to use this MakeMyTrip code to sign up; in other words, create a new account. Instantly, MMT will credit their account with ₹ 300; however, you will not earn any amount (yet). When your friend books a ticket for the first time using the MMT app, your account gets auto-credited with ₹ 300. Taking advantage of this MMT refer and earn program, you can earn up to ₹ 3,000.
Plan Your Next Holidays With MakeMyTrip Coupons And Deals
Whenever you have a vacation in your mind, look at MakeMyTrip for a budget-friendly holiday experience. Here, you will find affordable packages to several beautiful and exotic locations across the world. Some of these MMT holidays and flight packages are mentioned below:
=> MMT Getaway Deal - 5-star hotel plus flight package starts at ₹ 9,999. This never seen before MMT deal allows you to book hotel plus travel tickets from Indigo airlines, and that too at up to 40% discount.
=> MMT Domestic Flight Offer - Get up to ₹ 1,000 off on domestic flights after using MakeMyTrip Coupon Code 'MMTFLIGHT'. There is no restriction on the minimum booking amount. The offer is for a limited period.
=> MMT HSBC Offer - Instant discount of 8% up to ₹ 1,250 is applicable on Domestic Flight bookings, provided the payment is made using an HSBC bank credit card. Make sure to use the MMT coupon 'HSBCDOM' while making a transaction. It is a limited period offer.
MakeMyTrip Offers Today - All The Latest MMT Offers, Coupons, And Deals Of The Day
While MakeMyTrip is a destination to book flight tickets and travel packages, CouponMinds is a destination to get access to every MMT offer, coupon, and discount. You don't have to search for various MakeMyTrip deals on the portal as you can come straight to CouponMinds to find every current MMT discount deal under the same hood. It is a one-stop-coupon-shop where your travel booking experience becomes more satisfying and convenient. And, not only that, you even come across more offers and discounts - running on other travel portals - so that you can compare and book from the one which is much more affordable. Don't wait more, start booking your travel plans now!